Glimpses of Japan
I am a sedentary person, not much inclined to learn about foreign peoples and cultures. But, off and on, circumstances have led to unforeseen and unintended meetings with others; those encounters have greatly enriched the way I am looking at my fellow human beings and the world at large. Thus I was lucky to get a glimpse of Japanese culture when we first came to California in 1976, with more deepened insights upon my return in recent years.
It all started in early August 1976. My wife Alice and I had just arrived in Berkeley and spent a frenetic two weeks trying to find lodging for the full year we would be staying there. Alice was of Finnish upbringing and had a kean need of proper and orderly living condititions. Many an apartment and house were being looked at, but it never failed that, either, it got "thumbs down" from Alice, or was far beyond our means.

I was getting a bit worried, since the hotel room on Dana Street cost plenty and money was getting scarce; our funds had not yet been transferred from the Swedish bank (this took weeks in those days), neither did we have any credit cards. And the days went by with us cruising the city in search of lodging. At long last, on Monday of the third week, we happened to turn into a small side street in South Berkeley off Shattuck when, suddenly, "Stop!" shouted Alice, causing me to hit the break and the car to slither sideways on the small lane.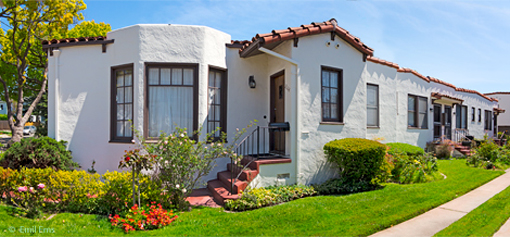 Revalon Court on 2110 Stuart Street. Click on any picture to enlarge it!

Soon enough, the reason for Alice's excitement became clear. To our right lay a cosy little estate, with two rows of bungalow entouring a well-groomed drive-in, adorned with roses and lush greenery.
We approached the estate with trepidation: might an apartment be for rent? Halfway into the property, we were met by a cordial couple of Asian appearance. These were Masami and Nobuko Fujimoto, the landlords. It so happened that an apartment had been vacated just the day before and was available for a full year's lease. Our troubles were over!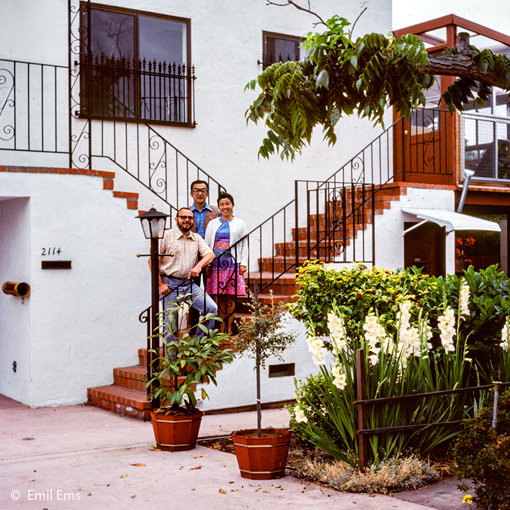 The landlords and myself in front of their apartment on Revalon Court, in 1977.

Ever since our stay in Berkeley back in 1976/77, a permanent fixture in my California Universe has been this property, called Revalon Court. The owners, Masami and Nobuko Fujimoto, have become good friends and we have kept contact over the years. To our sorrow, Masami passed away some ten years ago, but Nobuko is still going strong and managing the estate. I stayed there again in 2010, as well as during my last two visits to Berkeley in 2012 and 2015.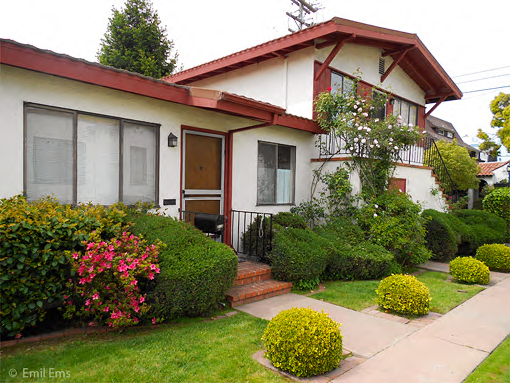 Our apartment on 2110 B Stuart Street back in 1976/77.

Interestingly, Revalon Court lies within a small Japanese enclave on a small stretch of Stuart Street, with extension towards Oregon Street on the south. There was, before the war, a much larger, concentrated and vivid Japan Town and Community in Oakland, but that centre had been dispersed due to wartime internment of citizens of Japanese descent (they were forced to sell their estates before being sent to the camps). After the war, resettlement took place in smaller patches distributed all over the East Bay.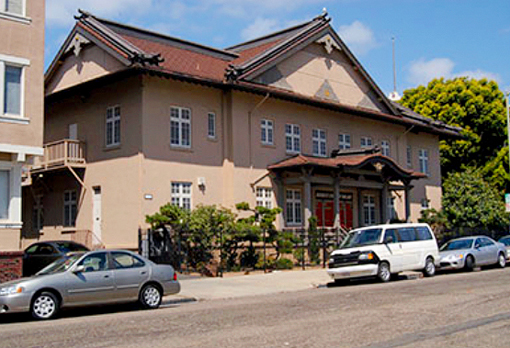 Buddhist Church in Oakland. A remainder of Japan Town from before the war.

Oregon Street, stretching parallel to Stuart Street and being the next street to the south, was not one of my habitual walking streets. However, once on my way to a meeting with the Le Comte Neighborhood Association (see Bonus section in Chapter 7), I passed by that area. Suddenly, across the street, a wondrous scene opened up before my eyes. Instead of the usual, well-groomed small trees and flowerbeds adorning Japanese properties, there resided a complacent Buddha, shaded by a colourful umbrella, as if contemplating and blessing this little Japanese Community (see picture on top).
Upon my recent returns to Berkely , Nobuko took great care in introducing me to her Japanese friends. In that context I got to know, during my stay in 2012, an intriguing Japanese born artist, Keiko Nelson, who graciously offered to help me distribute my book "Fiat Lux!".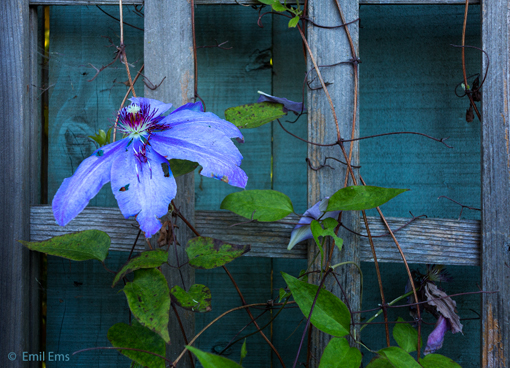 "La fleur du mal" in Keiko Nelson's backyard.

After having discussed this in her home in Kensington, she surprised me by stepping into a huge sculpture in the front yard. I was completely taken aback by this configuration of a delicate and charming little woman within the "threatening" claws of an immense crab of her own creation! So I asked Nobuko to join her and hastened to take a picture of both ladies in their "confinement".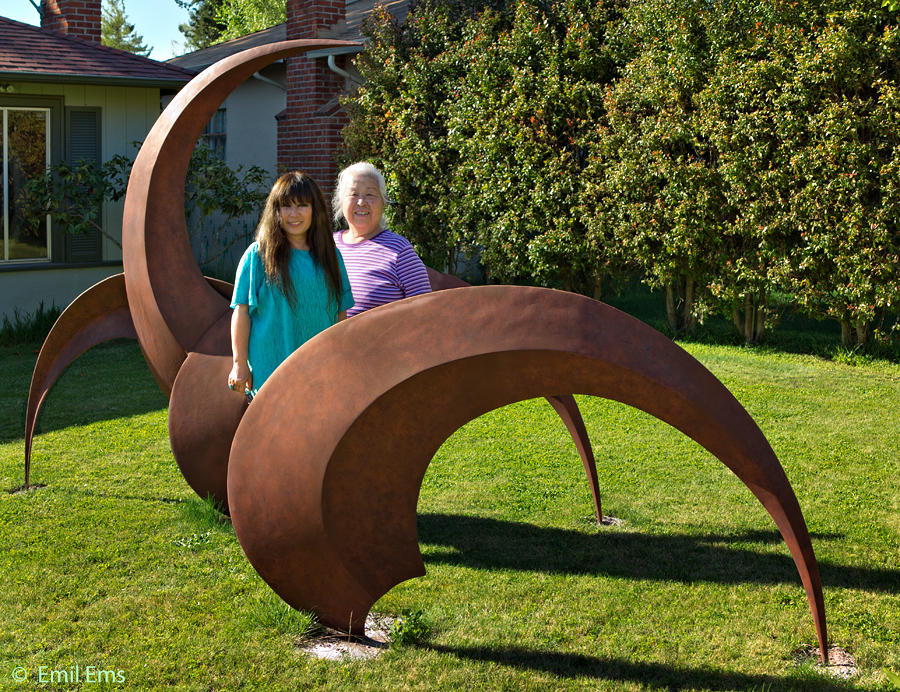 Other acquaintances of Nobuko's were Akiko Kikuno and her husband Edward. They lived in Piedmont, a posh neighborhood in the hills above Oakland (more about this in the bonus section of Chapter 20). Akiko was a gentle lady of small stature, whereas Edward, of polish descent, was rather her opposite. We became close friends and made many an excursion together in the East Bay neighborhood. The most memorable outing was a trip to Napa Valley (described in Chapter 13).
Upon my last stay in California, in 2015, we went together to another fine wine region, the Sonoma valley, which lies just East of Napa. It may interest you readers to learn that the arguably oldest winery in Northern California had been estalished in the neighborhood. It is called Buena Vista Winery and had been founded as early as 1856 by a Hungarian nobleman, Count Agoston Haraszthy. His story is rather unique; he was a most enterprising gentleman, hyper-active in California ever since the Gold Rush years.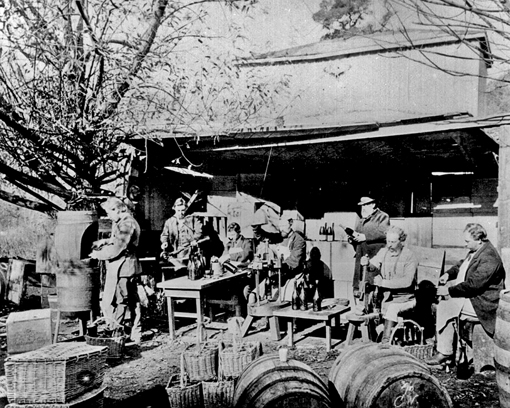 Bottling at Buena Vista Winery, 1870s. Photographer: Eadweard Muybridge
After having fortified ourselves at this most convenient place for wine tasting and picnicking, we went on to the city of Sonoma itself, to visit the home of the last military commander of Mexican Northern California, General Vallejo. It turned out that his place was located quite a walking distance from the town centre, so I won't trouble you with having to follow us there. Instead, let me show you a picture of Nobuko, Akiko and myself in front of a giant eucalyptus, located in the middle of town. Enormous as it is, the tree cannot be much more than a hundred years old, since eucalypti were not introduced in Northern California until the early 1900s.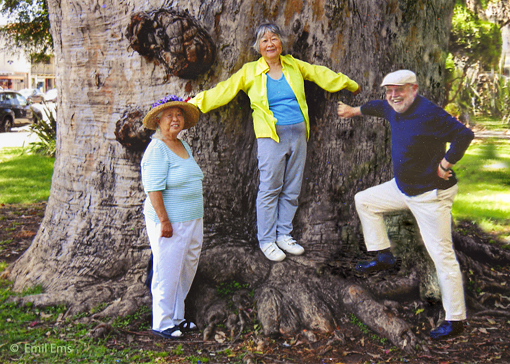 Finally Nobuko also introduced me to a gymnastics group that was meeting every Wednesday in a neighbourhood church. Work-out was led by a combined dance teacher, choreographer, dancer, singer and actor by the name of Gil Chun. This amiable and multi-talented Gentleman led us in a series of loosening-up exercises that did my aching limbs a lot of good.

Most of the participants were Japanese ladies of a mature age. Always sitting to my right, a sprightly "youngster" (albeit a lady of age like the rest of us) was showing us sloppy people what supple limbs and a good constitution could do for your body.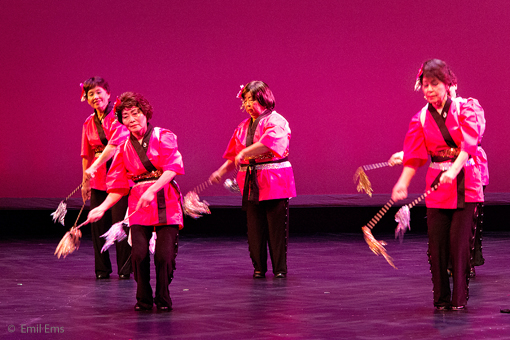 Yoko & the Sunshine Girls. Nobuko in the middle; Yoko to the right.

Little did I suspect that this Wednesday group meetings served as preparatory training for a Japanese Dance Company. Realization dawned when I attended a performance of the Bay Area Follies at Roda Theatre in Berkeley on May 27, 2012. None else but Gil Chun was the main leader of the performance and, among several enticing sing and dance groups, suddenly a troupe came to light on the scene by the name of Yoko & the Sunshine Girls. Yoko was of course the sprightly lady from the gymnastics exercises, now leading a swirling circle of exotically dressed ladies, with Nobuko right in the middle of the melee! A sparkling performance indeed by my friends from the gymnastics exercise!
Let me round up this essay by showing you a video of one of the gorup's dances at that occasion. That performance was based on a popular melody, named "Rosaria", and – how could it be otherwise! –was accompanied by Gil, who sang the title song in JAPANESE!
As I am getting of age, it becomes less and less likely that I will make it to California yet another time. So I have to content myself with memories, with the Japanese connection being among the most charming and entertaining!